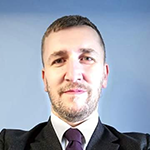 I started on the road to becoming an accountant by doing an HND in Accountancy in 1994, passing with merit in 1996 before beginning employment in early 1997 with a small local firm.
While working there, I was supported through my my ACCA professional exams, passing every one first time, culminating in gaining the academic side of my qualification in summer 1999. Gaining the practical experience took a little longer – working with a smaller firm allowed me to get closer to the clients and develop my skills in creating good working relationships. It also meant I had more on the job experience as it took me slightly longer to get my full ACCA qualification, which I did in 2003, with a lot of help from the firm I worked with.
I gained my practicing certificate in late 2008, and took over the practice in January 2009 after the retirement of my then boss, looking after many great clients whom I had developed good relationships with over the previous 12 years, and have taken many more good clients in the decade since becoming my own boss.
I now cater for all types of small business, from sole traders to partnership to Limited Companies, doing all work required, from self-assessment returns to Limited Company accounts, payroll, VAT and everything in between.